Reading Time:
< 1
minute
Customize how your recipients receive information from you when it comes to protecting assets.
Add
To add a recipient to receive alerts, click the Settings
Click Alerts
Click Recipients.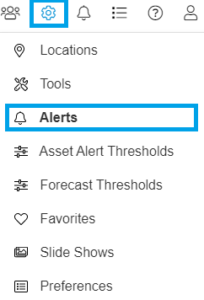 Click New under the Recipients
Recipient: Name the device or email address.
Recipient Type: Choose a Mobile Phone or Email.
Phone Number or Email: Enter the desired phone or email address.

NOTE: For phones, you will need to know the Service Provider (i.e. Verizon).

Time Zone: Select the recipient's time zone.
You may also choose a Quiet Period.

A Quiet Period is a time frame you would not like to receive alerts (i.e. when not on shift). You can create up to two quiet periods per recipient.
Click Save Changes.
NOTE: To add a recipient to an alert, you will need to go to the Alerts menu and click Choose Recipients. Click here to walk through setting up Alerts.
Category: Create