Reading Time:
< 1
minute
After setting up locations and recipients, follow these steps to set up alerts. A short video tutorial is shown above.
First
Start by selecting Alerts in the Settings menu.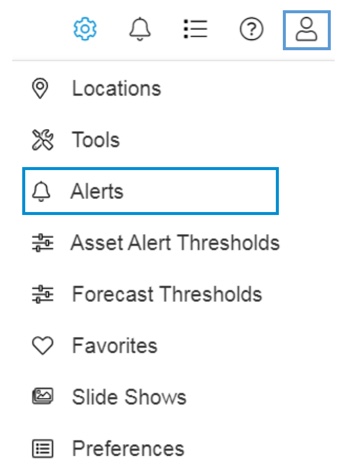 Select Location
Now, select a location from the list. Setting up locations is covered here.
Select Recipient(s)
Then, select one or more recipients from Choose Recipients. Setting up recipients is covered here.
Select Alert Criteria
Finally, click on the Enable box to turn on each alert from the list. Enter a value for the selected alert where required.
Popular alert criteria include:
Lightning
Weather Bulletins
Tips
Include an Action Message with each alert by clicking on the icon in the right column.
Choose Clone settings to in the upper right to copy alert criteria and recipients to other locations.
See alerts by clicking on the View Alerts icon in the upper right.

Category: Configure